Royal icing
A recipe from
cooking-ez.com
161K
4.5
February 12
th
2012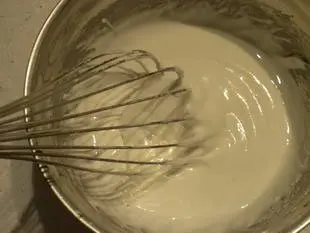 For 120 g, you will need:
Times:
Step by step recipe
1: Put 20 g egg white and 100 g icing sugar in a bowl.
2: Tip in half the icing sugar.
3: Mix thoroughly with a whisk.
4: Add more icing sugar a spoonful at a time, beating well each time.
Continue until you have a smooth paste which leaves a point when you lift the whisk out.
5: Your royal icing is ready for use, to coat a cake or sweets, like calissons, for example.
Remarks
The proportions of egg white and sugar are fairly approximate. It is important to arrive at the right pasty texture, whatever weight of sugar you are using.
The lemon juice gives a brighter whiteness, but you can colour royal icing with a few drops of food colouring if you prefer.
---
January 21th 2022.