Sweet pastry
A recipe from
cooking-ez.com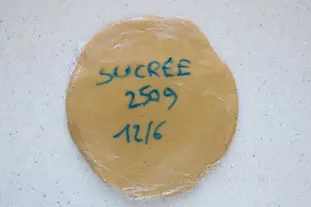 For 1 kg 100 g, you will need:
Times:
Step by step recipe
1: Weigh 120 g egg, then whisk briefly until liquid.
Note: once liquid, it is easier to adjust the weight more precisely if necessary. Use up any egg left over for glazing.
2: Put into a food-mixer bowl: 550 g flour, 215 g butter cut into small pieces, 270 g icing sugar and 5 g fine (or table) salt.
3: Mix together on medium speed until it makes a grainy dough.
4: Stop as soon as it reaches this consistency.
5: Start the mixer again and pour in the egg in a thin stream.
6: Stop kneading as soon as the dough is evenly mixed.
7: Weigh out the dough into pieces of 8 to 10 oz (250 to 300 grams), shape into balls, then into flat "cakes" and wrap these in plastic film.
Refrigerate until needed, or freeze.
Remarks
Sweet pastry can be used the day it is made. It just needs to rest in the fridge for 1 hour beforehand.
---
July 10th 2020.