Alsatian apple tart
A recipe from
cooking-ez.com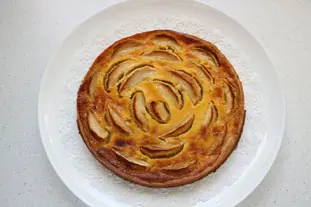 For 1 Alsatian apple tart, you will need:
Times:
| Preparation | Cooking | Start to finish |
| --- | --- | --- |
| 29 min. | 25 min. | 54 min. |
Step by step recipe
1: Roll out 250 g Sweet pastry.
Line a tart ring 8 inches (22 cm) in diameter.
Refrigerate until needed.
2: Prepare 300 g Paris flan filling, leave to rest in the fridge.
Preheat the oven to 390°F (200°C).
3: Peel ing6s, cut into quarters, then again into eighths (more or less slices).
4: Take the pastry case out of the fridge and trim off any surplus pastry to neaten around the edge.
Impottant: check that there are no holes in the pastry, or the filling will run out onto the baking sheet during cooking.
5: Arrange the apple slices in the case...
6: ...and pour the filling around them.
Put in the oven immediately.
7: If you have any left over pastry, apple and filling, use these up by making mini tarts.
8: Bake for about 35 minutes, then leave to cool in a wire rack. Serve warm or cold.
Remarks
For a richer version, reduce the quantity of milk and increase the cream.
---
March 23th 2023.