Amaretti
A recipe from
cooking-ez.com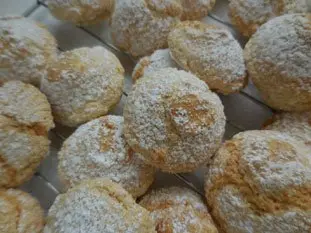 For 50 pieces, you will need:
Times:
| Preparation | Cooking | Start to finish |
| --- | --- | --- |
| 23 min. | 40 min. | 1 hour 3 min. |
Step by step recipe
1:

Prepare the amaretti mixture


Weigh out 300 g caster sugar. Set aside.
2: Weigh out 350 g ground almonds. Set aside.
3: Beat 4 egg whites. Halfway through, while still beating, add 2 tablespoonsful taken from the 300 g caster sugar.
4: When the egg whites are fully beaten and glossy, reduce the speed slightly and gradually add the rest of the sugar.
5: When all the sugar is mixed in, stop beating and tip in the ground almonds, all in one go, with 3 drops bitter almond essence.
6: Fold in gently with a soft spatula...
7: ...until evenly mixed. Do not mix for too long as there is no need to mix really thoroughly.
8:

Form the amaretti


Preheat the oven to 390°F (200°C).
Make the amaretti straight onto a sheet of cooking parchment laid on a baking sheet. It is best to pipe them, using a forcing bag, but you can shape them with 2 teaspoons instead; the shape will just be less regular.
9: If your amaretti have points on the top, you can smooth these down with a teaspoon dipped in milk.
10: Dust with icing sugar if desired.
11:

Cook the amaretti

Bake for about 40 minutes, until the amaretti are just beginning to take on a creamy colour.
Remarks
It is tempting to mix the ground almonds into the meringue with the whisk, but don't do it, or the meringue will collapse completely. Fold them in gently with a soft spatula.
---
June 9th 2023.