Apple Tatin Terrine
A recipe from
cooking-ez.com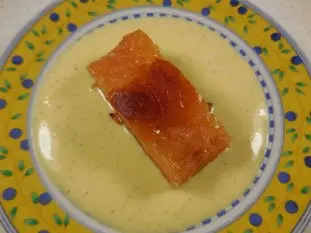 For 6 people, you will need:
Times:
| Preparation | Cooking | Start to finish |
| --- | --- | --- |
| 26 min. | 3 hours 2 min. | 3 hours 28 min. |
Step by step recipe
1: Melt 20 g butter.
2: Line a terrine dish or loaf mould with cooking parchment, leaving some overhanging the edge. Butter this paper lining using a brush.
Preheat the oven to 360°F (180°C).
3: Peel 2 kgs apple, remove the core and slice.
Begin filling the dish by spreading a layer of apple slices in the bottom...
4: ...and sprinking with caster sugar.
5: Continue filling the dish, alternating layers of apple and sugar.
You can press the apples down and even overfill the dish, as the fruit will settle during cooking.
Finish with another brushing of melted butter and more sugar.
6: Fold the edges of the paper over the top and hold in place with a metal object, such as a desert ring or spoon.
7: Bake in the oven for 3 hours.
8: When done, remove from the oven and leave to cool.
9: Turn out the cold terrine by pulling on the paper.
10: Serve in slices, warm if possible, with custard or a scoop of vanilla ice cream.
---
September 21th 2020.