Caribbean upside-down cake
A recipe from
cooking-ez.com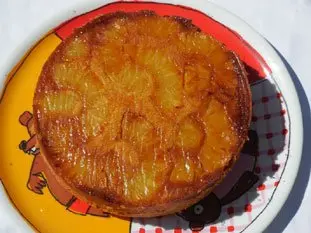 For 1 cake, you will need:
Times:
| Preparation | Cooking | Start to finish |
| --- | --- | --- |
| 27 min. | 40 min. | 1 hour 7 min. |
Step by step recipe
1:

Prepare the tin or mould

Use a springform tin if you have one, about 9 inches (23 cm) in diameter.
Line the bottom with a circle of cooking parchment.
2:

Caramelize the pineapple

Peel 1 pineapple, cut into fairly thick slices and remove the hard central core.
3: Cut the pineapple slices in half.
Using a non-stick frying pan, melt 20 g butter on high heat, then add 50 g brown sugar.
Lay the pineapple pieces on top and caramelize...
4: ...on both sides.
5: When nearly done, add the juice of ½ lime and leave to reduce for a minute or two.
6: Arrange the pinapple slices flat in the bottom of the tin or mould so that they do not overlap.
Preheat the oven to 390°F (200°C).
7:

Prepare the cake batter

Put 6 eggs and 100 g brown sugar into a food-mixer bowl. Beat until the mixture is pale.
8: Sieve 200 g flour and 1 teaspoon baking powder on top; add 100 g ground almonds.
9: Fold the dry ingredients gently into the egg white using a soft spatula.
10: Finish by adding the melted 180 g butter once it has cooled. Fold this in gently.
11: Pour the mixture into the tin or mould on top of the pineapple.
12: Bake for about 30 minutes.
Check to see if the cake is cooked before taking it out of the oven.
13: Turn the cake out onto its serving plate as soon as it comes out of the oven. Remove the paper from the top and leave to cool before serving.
Remarks
If this is to be an "adult" cake (that no children will be eating - whatever else were you thinking?!), you can also add 2 tablespoonsful of rum with the lime in
stage 5
.
If you would like a syrup to serve with the cake, after taking the pineapple out of the pan,
deglaze
it with 2 glasses of pineapple juice + the juice of a lime. Leave this to thicken on low heat. Serve in a sauce boat, preferably hot or warm.
---
February 24th 2020.