Comtoise apple charlotte
A recipe from
cooking-ez.com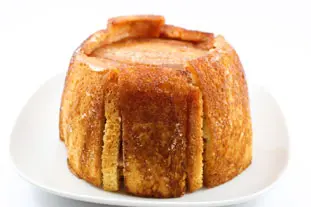 For 1 charlotte, you will need:
Times:
| Preparation | Cooking | Start to finish |
| --- | --- | --- |
| 32 min. | 1 hour | 1 hour 32 min. |
Step by step recipe
1: Remove the crusts from 4 slices Sandwich bread, cut each slice in half to give, ideally, pieces the same height as your mould.
2: Butter the bread slices on both sides and fry until golden brown.
3: Use a brush to coat the inside of your charlotte mould with melted butter.
4: Put 2 tablespoonsful of caster sugar into the buttered mould and shake until the sugar is evenly distributed and stuck to the butter all over.
5: Line the base and sides of the mould with the slices of fried bread, cutting to size where necessary and filling any holes with the trimmings until completely covered (yes, I know, it looks a bit like a jigsaw puzzle or bread Tetris).
6: Peel 1 kg apple and cut into small pieces.
7: Put a third of the apple pieces into the mould and sprinkle generously with sugar.
8: Continue adding layers of apples and sugar until the mould is completely full. Press down gently.
9: Preheat the oven to 390°F (200°C).
Prepare 200 g Clarified butter (this can be done well in advance).
10: Pour over the apples...
11: ...and bake for about 45 minutes.
12: Turn out onto a plate while still hot.
Serve cold or warm, either on its own or with real custard (crème anglaise) or whipped cream.
Remarks
As usual when cooking apples, choose ones that are fairly acidic: a proper "cooker" like Bramley, or a tart eater (russet, Cox...).
---
October 29th 2020.