French custard tart
A recipe from
cooking-ez.com
420K
23
4.0
July 13
th
2022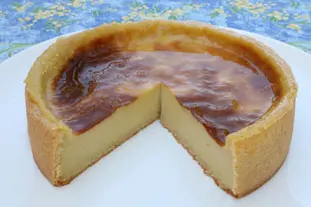 For 1 French custard tart, you will need:
Times:
| Preparation | Cooking | Start to finish |
| --- | --- | --- |
| 20 min. | 50 min. | 1 hour 10 min. |
Step by step recipe
1: Spread out 300 g Shortcrust pastry (pâte brisée) in a 8 inches (20 cm) mould, following these tips.
Put on standby in the fridge.
2: Prepare 800 g Paris flan filling.
Preheat your oven to 200°C (390°F).
3: Remove pastry case from fridge, trim and neaten edges with a knife and prick all over bottom with a fork or a pique-vite.
4: Pour mixture into the pastry case.
Note that we put hot cream on dough, a bit unusual but necessary to reduce cooking time.
5: And immediately put in the oven for about 50 minutes.
6: You can glaze (with apricot jelly) top for a shiny dessert.
7: Taste imperatively cold, your flan can also very well wait for a full night in the fridge.
Remarks
You can use different kinds of dough:
sweetcrust pastry (pâte sablée)
or
puff or flaky pastry (pâte feuilletée)
.
---
June 9th 2023.