Products and ingredients: Apricot glaze
---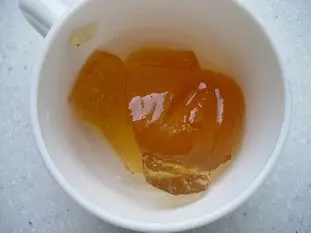 Apricot glaze
Apricot glaze is an apricot jelly (strained jam), used to coat tarts, to protect them from the air and give them a glossy appearance.
If you intend to buy:
You will find it in supermarket, or in specialized stores, where it's cheaper. See about that
my best addresses page
.
If you want to use it:
Apricoting glaze looks like a fruit jelly, and should be melted with 10% water or
sugar syrup
, in a
bain-marie
or microwave oven before use.
Last modified on: September 18th 2022