Fruit salad
A recipe from
cooking-ez.com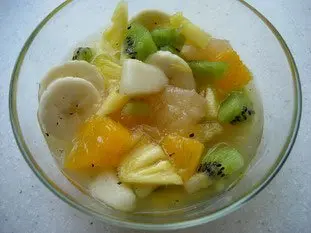 For 6 people, you will need:
1

1 Victoria pineapple

2

4 kiwis

3

2 grapefruits

4

2 bananas

5

2 Pears

6

1 lime

7

½ vanilla pod

8

1 glass Sugar syrup
Total weight: 3,052 grams
Times:
Preparation
1 hour 13 min.
Step by step recipe
1: The choice of fruits is of course linked to the season, so don't hesitate to change any fruit for another. It's important to choose seasonal fruits, they are at their best and cheaper.
2: Peel oranges and grapefruits, cut each segment into two or three and put in the bowl.
3: Don't forget to squeeze all the fruit membranes with your hands over the bowl to keep the maximum juice possible.
4: Trim off top and bottom of kiwis, peel them and cut in four lengthways. Cut each quarter into small pieces and put in the bowl.
5: Peel pineapple, cut each quarter in small pieces and add to the bowl.
6: Peel pears, cut in four, sprinkle with lemon juice to prevent browning, remove the core, then cut each quarter in small pieces and add to the bowl.
7: Squeeze the lime over the bowl.
Scrape the inside of half a vanilla pod into 1 glass Sugar syrup, then pour into the bowl.
If possible add a pinch of vitamin C.
Mix the whole lot gently.
8: Cover with plastic film, and keep in the fridge.
9: Shortly before serving, peel bananas and slice into the bowl, before mixing for the last time.
This is done because bananas quickly soften and turn brown after they are peeled.
Remarks
If you like the taste, you can add a little rum to the syrup .
Some are looking for the contrast that I was speaking about (soft with crunchy), personaly I don't like it, preferring harmony, but of course it's a matter of taste.
---
July 3rd 2022.