Little vanilla, clementine and chestnut verrines
A recipe from
cooking-ez.com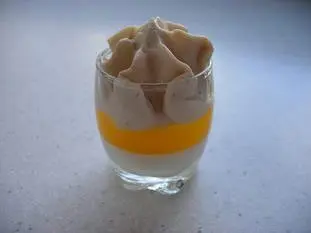 For 6 verrines, you will need:
Times:
Step by step recipe
1: Prepare the panna cotta with 125 ml liquid cream, 25 ml milk, 15 g caster sugar, 1 sheet gelatin and ½ vanilla pod.
When cool, share between the glasses and refrigerate for at least 4 hours.
Tip: Place these on a cloth or absorbant paper on a baking tray so that they are easier to move.
Put 1 sheet gelatin to soak in cold water.
2: Rub the edges of the sugar lumps over the clementine peel so that they absorb some of the delicate fruit flavour...
3: ... then put the sugar in a small pan.
4: Squeeze the juice of 3 clementines and ½ lemon and add this to the pan.
Put to heat gently and stir to dissolve the sugar. Once the juice is fairly hot, take off the heat, add the drained and dried gelatine and stir until fully dissolved.
Please note: It is important that the juice should not boil as it will lose much of its flavour.
5: Cool the juice by standing the pan in very cold water. When it starts to thicken, divide between the glasses, pouring it gently on top of the panna cotta.
Put back in the fridge for 4 hours.
6: Prepare the chestnut mousse: whisk together 50 ml liquid cream and 50 g sweet chestnut purée (crème de marrons).
7: Pour the mixture through a very fine sieve, then into a cream whipper.
Screw in a gas cartridge or two, depending on your machine.
Please note: if you don't have a cream whipper, just proceed as indicated below.
8: Just before serving: add a final layer of chestnut mousse.
Remarks
If you don't have a cream whipper: whip the cream to
Chantilly
stage, then gently fold in the chestnut cream. Fill the verrines using a
forcing bag
if possible.
You can varying the flavours; for example, try replacing the clementines with pineapple.
---
January 26th 2021.