Madeleines
A recipe from
cooking-ez.com
10K
3.8
November 18
th
2022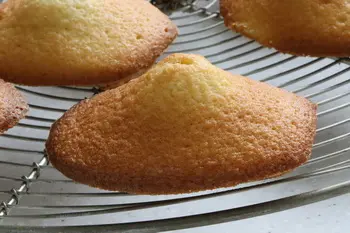 For 24 pieces, you will need:
Times:
| Preparation | Cooking | Start to finish |
| --- | --- | --- |
| 12 hours 18 min. | 28 min. | 12 hours 46 min. |
Step by step recipe
1: Melt 100 g butter in a small saucepan over medium heat, then continue cooking until it no longer boils and gives off a nutty smell, you have made a "nutty" butter.
Let it cool off the heat until it is lukewarm.
2: Meanwhile, whisk together 120 g egg, 110 g caster sugar and 10 g Vanilla sugar.
3: Sift on this mixture 110 g flour and 4 g baking powder...
4: ...and mix thoroughly.
5: Add the warm hazelnut butter, whisking gently...
6: ...until the mixture is homogeneous.
7: The madeleine dough is finished, but it is important to let it rest in the cold before using it.
The best way to do this is to pour it into a pastry bag, which is itself placed in a high-sided container.
8: Close the piping bag and refrigerate for at least 4 hours, ideally overnight.
9: Preheat your oven to 180°C (360°F).
Butter a madeleine tray, then pipe a small pile of dough into each mould.
Don't overfill, otherwise your madeleines will stick together when they are baked, as they will swell up a lot.
10: Bake in the oven for 15-20 minutes, watching the coloring at the end.
11: Turn out while still warm and cool on a rack.
Remarks
At
step 7
you can also simply put the dough in the bowl in the fridge overnight, then pipe or spoon it the next day.
You don't have to make a hazelnut butter, a simple melted butter will work too, but it won't taste as good.
If you don't have vanilla sugar, replace with the same weight of sugar and a teaspoon of vanilla extract.
---
September 28th 2023.