Nougat
A recipe from
cooking-ez.com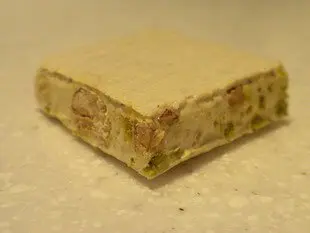 For 900 g, you will need:
Times:
| Preparation | Cooking | Start to finish |
| --- | --- | --- |
| 1 hour 6 min. | 35 min. | 1 hour 41 min. |
Step by step recipe
1: Preheat the oven to 180°C (360°F).
Spread 200 g whole almonds out on a baking sheet and 200 g whole almonds on another.
Take the pistachios out of the oven after 10 minutes and the almonds after 15 minutes.
2: Pour 400 g caster sugar, 400 g honey and 100 g water into a pan.
Put on medium heat.
3: Check the temperature as it rises (use a electronic thermometer), until it reaches 150°C (302°F).
4: The honey will cause the mixture to froth. Watch it carefully as it tends to boil over.
5: When the mixture reaches 145°C (293°F), begin beating 70 g egg white, adding 20 g caster sugar halfway through.
6: As soon as the sugar mixture reaches 150°C (302°F), slow down the mixer and slowly pour the liquid into the beaten egg whites so that it is evenly mixed in.
7: Leave the beater running for another 5 minutes to give the egg-white mixture time to cool down a little.
Note: In effect you are making italian meringue with honey. You will see what a beautiful ivory colour this gives.
8: Change beaters: replace the whisk attachment with the flat beater or paddle ("K" beater for Kenwood) as the next stage requires more force.
9: Set the food processor going again on slow speed, then tip in the mixed almonds and pistachios a few at a time.
10: Leave to mix thoroughly...
11: ...then scoop out half the nougat onto a sheet of rice paper.
12: Place a second sheet of rice paper on top and roll, using a rolling pin (you can put blocks on either side to keep the thickness even; here I'm using 2 steel rules).
13: Cut the nougat into strips...
14: ...then into blocks of whatever size you like.
Do the same for the remaining nougat.
You nougat is ready to be enjoyed.
Remarks
If you would like your nougat very white, like the commercially-produced version, replace half the honey with a mixture of sugar and glucose syrup in equal quantities.
---
January 24th 2022.