Poppy seed and lemon cake
A recipe from
cooking-ez.com
34K
2
3.9
November 17
th
2019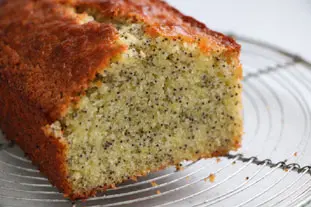 For 1 cake, you will need:
Times:
| Preparation | Resting | Cooking | Start to finish |
| --- | --- | --- | --- |
| 9 min. | 1 hour | 45 min. | 1 hour 54 min. |
Step by step recipe
1: Preheat the oven to 300°F (150°C).
Lay a sheet of cooking parchment on a baking sheet and spread out 25 g poppy seeds on it.
Toast in the oven for just 5 minutes.
Leave to cool.
2: Put 180 g caster sugar and 180 g butter into a mixer bowl.
Start the mixer and beat until evenly mixed.
3: Add 200 g egg, 200 g flour, 10 g baking powder, 5 g fine (or table) salt and the zest of 1 lemon.
Continue beating until evenly mixed.
4: Finish by adding the cold toasted poppy seeds. Beat for 1 further minute to mix in thoroughly.
5: Transfer the mixture into a non-stick or well-buttered (or both) tin or mould.
It is not essential, but I recommend putting the tin in the fridge for an hour or more to firm up the mixture; this helps it rise better as it cooks.
6: Preheat the oven to 390°F (200°C) and bake the cake for about 40 minutes.
7: Turn the cake out gently and leave to cool on a wire rack before serving.
Remarks
Do take care not to over-toast the poppy seeds. They are very small, so 5 minutes is plenty long enough.
For a more intense lemon flavour, add a little more lemon juice.
---
June 9th 2023.