Puits d'amour
A recipe from
cooking-ez.com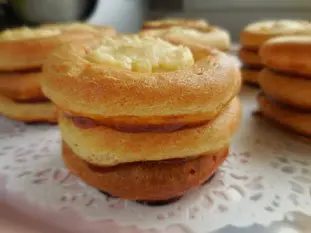 For 6 pieces, you will need:
Times:
| Preparation | Cooking | Start to finish |
| --- | --- | --- |
| 58 min. | 45 min. | 1 hour 43 min. |
Step by step recipe
1: Preheat the oven to 390°F (200°C).
Roll out the puff pastry thinly, cut out circles 6 cm (2 inches) in diameter and put these on a baking sheet.
Prick all over with a fork, then lay a second baking sheet or wire rack on top to prevent them puffing up too much.
2: Bake for about 15 minutes, until nicely browned.
Set aside.
Turn the oven down to 360°F (180°C).
3: Place a sheet of cooking parchment on a baking sheet and draw circles 6 cm (2 inches) in diameter.
A cutter of the right size is ideal for this.
4: Cover the sheet, but be sure to leave space between the circles.
5: Turn the sheet over and pipe rings, using a forcing bag with a size 6 nozzle, over the circles you have drawn.
6: Tidy up the circles if necessary by pushing the choux pastry into place with a small spoon dipped in milk.
7: Bake for around 20 minutes, until golden.
8: Prepare a light caramel with 150 g caster sugar. Stand the caramel pan on a folded cloth within easy reach.
9: Begin assembling the puits d'amour: place a circle of puff pastry in front of you (tip: work on a sheet of cooking parchment; then, if the caramel runs over the edge, it won't stick).
10: Dip a choux-pastry ring into the caramel (use tongs if you can to make this easier).
11: And stick this quickly onto the puff pastry.
12: Do this with another ring and stick it on top of the first one...
13: ...then add a third and final ring.
14: You can see how to do it in this short video.
Build all your puits d'amour "wells" like this.
15: Finish by filling the wells with confectioner's custard.
16: Refrigerate until needed, but do not serve too cold.
Remarks
Puits d'amour do not keep. To eat them at their best, while they still have both crisp and soft textures, they should be eaten the day they are made, ideally within 2 hours.
---
October 29th 2020.