Quick Strawberry Millefeuille
A recipe from
cooking-ez.com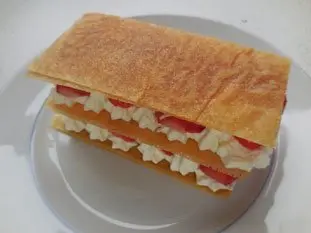 For 4 millefeuilles, you will need:
Times:
| Preparation | Cooking | Start to finish |
| --- | --- | --- |
| 38 min. | 10 min. | 48 min. |
Step by step recipe
1:

Prepare the crisp pastry rectangles

Preheat the oven to 390°F (200°C).
Cut the sheets of brik or filo into rectangles 16 x 6 cm (4.5 x 2.5 inches). You will need 6 rectangles for each millefeuille.
3: Sprinkle caster sugar over all the rectangles.
4: Stack the rectangles in pairs...
5: ...and arrange them on a baking sheet.
6: Put a second baking sheet on top of the first one to keep the pastry rectangles flat while in the oven.
7: Cook until the rectangles are golden brown (about 10 minutes) and leave to cool on a wire rack.
8:

Assemble the millefeuilles


Prepare the strawberries and cut in half lengthways.
Place a pastry rectangle on a serving plate and, using a forcing bag, pipe a layer of chantilly (whipped cream).
9: Arrange a layer of strawberries on top and add a little more cream so that this stands higher than the strawberries (this will help to stick the next layer of pastry).
10: Place a second pasrty rectangle on top and press down lightly to hold it in place.
11: Make a second layer of cream and fruit...
12: ...and finish with the last layer of pastry. Your first millefeuille is now ready. Assemble all the others in the same way.
Serve without delay (see below).
Remarks
It is always difficult to eat a millefeuille tidily. It tends to resist being cut with a spoon but, as this one has very thin pastry, cutting it is much easier.
You can use other fruits if you prefer (it is just as delicious with raspberries, for example), or even a different cream (
confectioner's custard (crème pâtissière, or french pastry cream)
,
chocolate mousse
,
pistachio cream
...).
Millefeuilles do not keep well, as the cream ends up making the pastry soggy. They should be assembled at the last minute and eaten as soon as possible.
---
May 26th 2020.