Strawberries in a thyme and lemon-flavoured red wine reduction
A recipe from
cooking-ez.com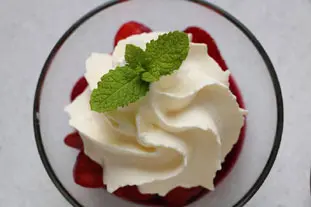 For 4 people, you will need:
Times:
| Preparation | Resting | Cooking | Start to finish |
| --- | --- | --- | --- |
| 23 min. | 15 min. | 45 min. | 1 hour 23 min. |
Step by step recipe
1: Pour 750 ml red wine into a saucepan on medium heat. bring to the boil, then leave to boil gently until reduced by half.
2: Add to the reduced red wine: 150 g caster sugar, 2 sprigs thyme and the zest of 1 lemon.
3: Put the pan back on the heat and reduce again by half.
4: Filter the contents of the pan through a fine strainer.
5: You will now have a red wine reduction flavoured with thyme and lemon.
Leave to cool, then cover and refrigerate.
6: Prepare 500 g strawberries, remove the green tops and cut in 4 lengthways.
Put into a bowl.
7: Pour the cold red wine reduction over, mix well and leave to steep for 15 minutes.
8: Divide out into small dishes and pour a generous slurp of the red wine reduction over.
9: Finish with a beautifully piped rosette of whipped cream (Chantilly) and garnish, if you like, with a mint leaf.
Serve cool but, above all, not too cold.
Remarks
If possible, opt for a fairly light red wine with not too much tannin.
If you don't have time to whip cream, replace this with a generous spoonful of thick crème fraiche, sprinkled with a little caster sugar.
---
January 16th 2021.