Tatin apple diplomat tart
A recipe from
cooking-ez.com
21K
4.2
November 20
th
2019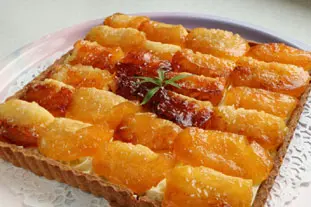 For 1 tart, you will need:
Times:
| Preparation | Cooking | Start to finish |
| --- | --- | --- |
| 1 hour 33 min. | 45 min. | 2 hours 18 min. |
Step by step recipe
1: Roll out 300 g Sweetcrust pastry (pâte sablée) and line a 9" (22 cm) square tin or mould, then bake blind.

Set aside.
2: Peel 1 kg apple, cut into quarters and remove the core.
3: Preheat the oven to 390°F (200°C).
Choose a large non-stick pan that can go in the oven. Put on medium heat and melt 100 g butter, then add 100 g caster sugar.
Leave until well mixed, stirring a little if necessary.
4: Add the apple pieces and pack tightly, though they should all be in contact with the butter and sugar mixture.
5: Leave to cook like this, simmering until the sugar begins to caramelize around the edge of the pan.
6: Turn the heat off and transfer the pan to the oven for about 20 minutes.
7: Take out of the oven and check that the apple pieces are all well soaked in the caramel; if not, return to the oven for a little longer.
8: Lay a sheet of cooking parchment on the worktop. Fish the burning-hot apple pieces out of the pan one by one (use 2 forks or tongs) and lay out on the paper.
Leave to cool.
9: Put a layer of 300 g Diplomat cream in the bottom of the tart case (a forcing bag is ideal for this).
10: Finish by arranging the tatin-style apple pieces on top of the cream.
Your tart is ready.
Remarks
If you don't have diplomat cream,
confectioner's custard (crème pâtissière, or french pastry cream)
will do instead, but won't be as smooth and creamy.
---
May 17th 2022.