Tea and white chocolate biscuits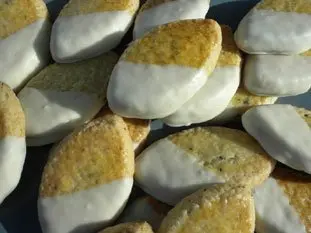 - Add photos
For
30 biscuits

, you will need:
Times:
| Preparation | Resting | Cooking | Start to finish |
| --- | --- | --- | --- |
| 1 hour 10 min. | 2 hours 30 min. | 30 min. | 4 hours 10 min. |
Step by step recipe:
Put into a food mixer bowl: 250 g flour, 125 g caster sugar, 125 g butter, 1 tablespoon powdered tea and 30 ml tea.

If possible, blend the tea to a fine powder before adding, as this makes the texture more pleasant to eat.

Mix until the dough is evenly mixed.

Shape into a flat cake and wrap in plastic film, then refrigerate for 2 hours minimum or overnight.
Preheat the oven to 390°F (200°C).

Roll out the dough but not to thinly.

Cut out the biscuits in whatever shape you like.

Arrange them on a baking sheet and glaze them.

Bake until they are just starting to turn golden brown (This kind of biscuit must never be overcooked).
Meanwhile, melt 200 g white chocolate in a bain-marie.

Once the cooked biscuits have cooled. dip them one at a time into the melted chocolate, coating them to halfway.

Place them on a sheet of cooking parchment.
Refrigerate for about 30 minutes to set the white chocolate.

Your biscuits are now ready to eat.
Remarks:
For an interesting variation, try using green tea. I recommend adding 1 tablespoonful of powdered Matcha tea to the dough.
A recipe from cooking-ez.com. View this recipe :
https://cooking-ez.com/desserts/recipe-tea-white-chocolate-biscuits.html
October 22
th
2018.