Verbena flan
A recipe from
cooking-ez.com
3,653
September 17
th
2023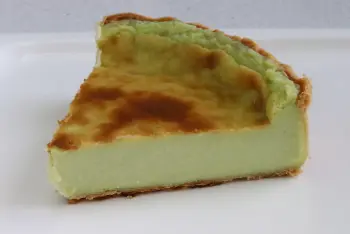 For 1 flan, you will need:
Times:
| Preparation | Resting | Cooking | Start to finish |
| --- | --- | --- | --- |
| 49 min. | 2 hours | 35 min. | 3 hours 24 min. |
Step by step recipe
1: Rinse verbena quickly under cold running water, then dry in a tea towel.
2: Separate the leaves from the stems (which you can compost or throw away).
3: Prepare 900 g Paris flan filling, and just as the cream + milk mixture is about to come to the boil, add the verbena leaves, roughly cut with scissors, and leave to infuse for 15 minutes, covered, after boiling.
4: When preparing the flan mixture, pour the cream + milk + verbena mixture over the eggs + sugar, and strain through a sieve to remove the verbena leaves.
5: Press down with a spoon or maryse to release the flavour.
6: Finish the preparation as usual.
At the end of the cooking time, you can add 2 tablespoons verveine liqueur to reinforce the taste, and lightly color the flan.
7: Preheat your oven to 200°C (390°F).
Place a 20 cm (8-inch) diameter flan ring on a sheet of baking paper on a baking sheet.
Line the ring with the puff pastry.
8: Fill with ceramic beads (or other cooking medium), and bake for 15 minutes.
9: Remove beads and paper.
10: Pour in the verbena flan mixture.
11: Place low in the oven and bake for 20-30 minutes.
12: Leave to cool before placing on a plate, then chill in the fridge for at least 2 hours before serving.
Remarks
If you don't use verbena liqueur in
step 6
, you can add 1 or 2 drops of green food coloring.
You can consult the
3 secrets of Parisian flan
page for all the tips you need to know about flans.
---
December 8th 2023.