Baked Mont d'Or with diced mixed vegetables
A recipe from
cooking-ez.com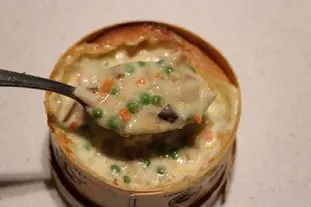 For 1 Mont d'Or, you will need:
Times:
| Preparation | Cooking | Start to finish |
| --- | --- | --- |
| 30 min. | 28 min. | 58 min. |
Step by step recipe
1: Prepare all the vegetables: rinse and dry them (except the mushrooms) and dice small, apart from the shallot which should be chopped finely.
As Mont d'Or is a seasonal cheese available in winter, you will need to use frozen peas.
2: Melt 30 g butter in a large frying pan on medium heat.
When hot, add the chopped shallot, salt and pepper, then cook for 1 minute without colouring.
3: Then add all the other vegetables and cook until tender, stirring frequently.
4: As the vegetables are diced small, they will cook rapidly, in 5 minutes at most.
Take off the heat and set aside.
5: Preheat the oven to 340°F (170°C).
Slice the top off the Mont d'Or and keep this "lid" to one side for later. Scoop out most of the cheese, leaving a little around the sides.
6: Put the cheese you as you remove it into a microwave-proof bowl.
Heat the cheese in the microwave until just melted. This is best done in several short bursts on maximum power, stirring each time.
If you don't have a microwave, melt the cheese in a pan on very low heat, stirring frequently.
7: Tip the vegetables into the melted cheese and mix well.
8: Refill the Mont d'Or with the cheese and vegetable mixture.
You may well have more filling than there is room for, so any leftovers can be put into ramekins for another meal.
9: Put the "lid" back on the Mont d'Or and bake for about 20 minutes until the top is browned.
Serve piping hot with the cheese still in its box so that everyone can dig in with a spoon.
Remarks
You can use any vegetables you prefer or whatever is available to buy. The important thing is to keep the shallot, finely chopped, but the rest is up to you.
---
April 1st 2020.