Products and ingredients: Mont-d'Or cheese
---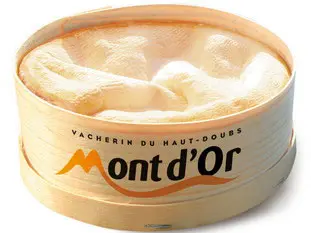 Mont-d'Or cheese
Mont-d'Or is a cheese made from whole raw cow's milk in Franche-Comté (an area of eastern France).
It's a soft and full-flavoured cheese, sold in a characteristic wood box.
Mont-d'Or in Wikipedia.
If you intend to buy:
Mont-d'Or is a seasonal cheese wich can only be made during certain periods of the year, when cow eat hay instead of grass.
You can see this on the calendar of seasons.
If you want to use it: Mont-d'Or can be eaten cold or hot.
Last modified on: September 18th 2022