Comtoise tart for Seàn
A recipe from
cooking-ez.com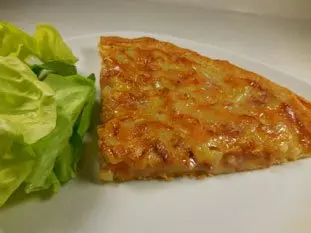 For 1 , you will need:
Times:
| Preparation | Cooking | Start to finish |
| --- | --- | --- |
| 1 hour 16 min. | 33 min. | 1 hour 49 min. |
Step by step recipe
1: Roll out the puff pastry and line the tart tin or mould. Prick all over the base with a pique-vite (pastry pricker) or fork and leave to wait in the fridge.
2: Cook the Morteau sausage, then peel off the skin and dice (slice first, cut the slices into sticks, then cut the sticks into dice).
Set aside.
3: Peel and rinse 300 g potatoes, then dice fairly small (like for the Morteau sausage). Rinse again and dry in a tea towel.
4: Pour 3 tablespoons oil into a frying pan on high heat. When hot, add the diced potatoes.
Fry, stirring occasionally. Salt and pepper when cooked.
5: Preheat the oven to 410°F (210°C).
Spread the diced sausage in the bottom of the tart.
6: Add the diced potatoes on top.
7: Finish by pouring the cancoillotte over.
If the tub of cancoillotte has come straight from the fridge, heat in the microwave for 1 minute to liquefy it.
8: Bake for about 25 minutes until the top is nicely browned.
9: Best eaten hot or warm. Serve with a green salad and a good french dressing (vinaigrette).
Remarks
If you can't find Morteau sausage, you can use another kind, but preferably smoked.
---
May 27th 2020.