Fried egg in bread
A recipe from
cooking-ez.com
99K
1
3.8
September 8
th
2015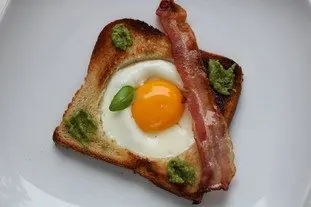 For 4 people, you will need:
Times:
| Preparation | Cooking | Start to finish |
| --- | --- | --- |
| 7 min. | 22 min. | 29 min. |
Step by step recipe
1: Cut a hole in the centre of 4 slices Sandwich bread; it's best to use a cutter for this, but you can also use a glass.
2: For a standard-size loaf, make the hole 3 inches (8 cm) in diameter.
3: Brush both sides of each slice with a little olive oil..
Note: You can butter the slices instead if you prefer.
4: Break the eggs and separate the yolks from the whites.
Put all the yolks together, but collect each white in a separate ramekin. This is so that they can be cooked in turn.
5: Grill 4 slices belly (streaky) bacon, then set aside to keep hot.
6: Use a large frying pan on medium heat to lightly fry the bread on both sides.
7: Pour an egg white into the hole in each slice...
8: ...salt, pepper and leave to cook until set.
9: Place a yolk on the top and lay a slice of bacon across the side.
Leave the yolk to heat through for 1 or 2 minutes.
10: Finish by adding dabs of pesto (optional) and serve immediately.
Remarks
You can use cured ham, such as Serano, instead of streaky bacon, if you prefer.
If you are short of time, break the egg directly into the hole in the bread, but do take care not to cook it too rapidly, so that the white has time to cook properly.
---
March 23th 2023.