Fried rillettes
A recipe from
cooking-ez.com
97K
4.5
December 11
th
2011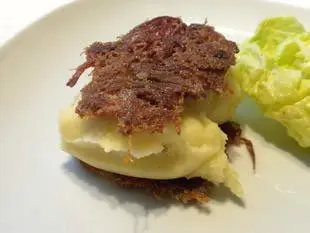 For 4 people, you will need:
Times:
| Preparation | Cooking | Start to finish |
| --- | --- | --- |
| 14 min. | 15 min. | 29 min. |
Step by step recipe
1: Heat the serving plates.
Flatten 200 g rillettes into thin cakes in a non-stick pan.
2: Put the pan on high heat and allow the fat to run out, mopping it up from time to time with absorbant paper.
3: Stop when the cakes are well fried.
4: Place a disc onto each plate.
5: Cover with 2 spoonsful of hot mashed potato (or potato rissoles, if you know how to make them).
6: Top with a second rillettes cake.
Serve with a little green salad.
Remarks
You will notice that the rillettes you buy in the shops have a lot of fat and not much meat, so it is far better to make your own
rillettes
, if you can.
---
December 7th 2021.