Hachis parmentier
A recipe from
cooking-ez.com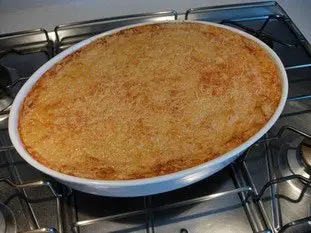 For 6 people, you will need:
Times:
| Preparation | Cooking | Start to finish |
| --- | --- | --- |
| 45 min. | 37 min. | 1 hour 22 min. |
Step by step recipe
2: Wash and chop 1 bunch parsley.
3: Grate cheese.
4: Cut 500 g cooked meat (here it's leftover chicken) into small pieces.
5: Put 2 tablespoons oil in a pan on medium heat, then add the chopped shallot and cook for a minute or two.
6: Add the meat, salt and pepper then cook for approximately 5 minutes while stirring well.
7: Remove the pan from heat, then add 2 eggs.
8: ... while stirring vigorously.
9: Add parsley.
10: Mix again
11: Butter a large dish.
12: In the bottom put a layer of mashed potato (approximately 1 cm or ½ inch thick).
13: Add all the meat in another layer.
14: Cover with a second layer of mashed potato.
15: And finally add a fine layer of grated cheese.
16: Put in the oven for 20/30 minutes until the top is nicely browned.
Remarks
For a more sophisticated recipe, you can:
Make more than 4 layers of mashed potato-meat-mashed potato-cheese, for example mashed potato-meat-mashed potato-cheese-meat-mashed potato-cheese. You should, of course, finish with a layer of mashed potato sprinkled with cheese.
Add some cream to the mashed potatoes
Add some chopped ham or bacon to the meat
It is worth noting that French "purée" is softer and much richer that traditional British "mash", so makes more of a gratin topping than a pie crust.
---
October 25th 2020.