Melting Epoisses on toast
A recipe from
cooking-ez.com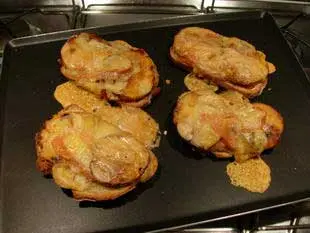 For 4 toppeds toast, you will need:
Times:
| Preparation | Cooking | Start to finish |
| --- | --- | --- |
| 19 min. | 1 hour 7 min. | 1 hour 26 min. |
Step by step recipe
1: Cut 4 slices bread, but not too thick.
Butter the slices lightly and sprinkle with 2 tablespoons dry white wine.
2: Boil 200 g potatoes and when cooked, peel and slice.
3: Heat 2 tablespoons oil in a frying pan on medium heat.
When the oil is really hot, fry the potato slices on both sides.
Set aside.
4: Use the same pan to fry 4 slices smoked ham for just a few seconds on each side.
Preheat the oven to 210°C (420°F).
5: Distribute the ham over the slices of bread.
6: Arrange the sliced potatoes on top.
7: And finish with the cheese.
Put in the oven for about 15 minutes.
8: Take out of the oven as soon as the cheese has fully melted and is lightly browned on the top.
Serve immediately, with a good green salad if possible.
Remarks
You can replace the Espoisse with another kind of cheese. I prefer one that is both soft and well-flavoured (Saint Nectaire, Saint Marcellin, Mont d'Or...) but it's just as good with Comté or Cheddar.
---
January 26th 2021.