Mushroom and artichoke omelette
A recipe from
cooking-ez.com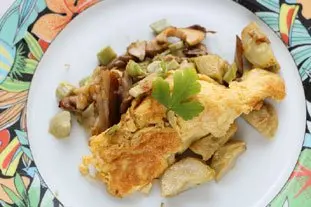 For 4 people, you will need:
Times:
| Preparation | Cooking | Start to finish |
| --- | --- | --- |
| 37 min. | 17 min. | 54 min. |
Step by step recipe
2:

Prepare the filling

Peel 1 spring onion (scallion) and chop finely.
Set aside.
3: Peel (if necessary) 350 g mushrooms and cut into small pieces.
Set aside.
4: Prepare 4 purple artichokes and cut into small pieces.
Set aside.
5: Pour 4 tablespoons olive oil into a large frying pan on medium heat. When really hot, add the chopped onion.
Salt and pepper, then cook for 1 minute without colouring.
6: Add the mushrooms and fry until lightly browned.
Towards the end of cooking, add the artichokes.
Transfer the filling onto a plate.
7:

Cook the omelette

Wipe the pan out quickly, pour in 3 tablespoons olive oil and put back on medium heat.
When the oil is hot, pour in the beaten eggs.
Use a wooden spatula or soft spatula to draw the egg from the edge of the omelette towards the centre.
8: When the omelette is about half cooked, tip the filling on top, turn down the heat, cover and leave to cook for 5 minutes.
9: To finish, allow the omelette to break up naturally as you fold the edges over towards the centre.
Serve right away.
Remarks
As with all omelettes, do take care not to overcook it, or it will be too dry.
---
September 20th 2021.