Pasta with cherry tomatoes, olives and feta cheese
A recipe from
cooking-ez.com
5,805
4.3
August 27
th
2023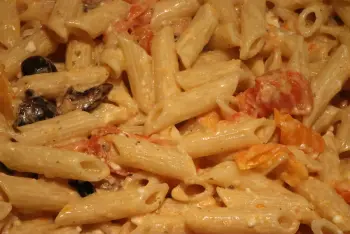 For 4 people, you will need:
1

500 g cherry tomatoes

4

200 g feta

6

50 g black olives

7

500 g pasta
Total weight: 1,250 grams
Times:
Step by step recipe
1: Wash and dry 500 g cherry tomatoes.
2: Cut them in 2, place the cut part on top, then sprinkle with fine salt and leave to stand for 15 minutes.
Preheat your oven to 200°C (390°F).
3: Meanwhile, pour a little olive oil into a gratin dish, then place 200 g feta in the center (no need to cut it).
4: Pour the cherry tomatoes around...
5: Add 50 g black olives cut in 2, sprinkle with herbes de Provence then lightly salt tomatoes and olives, drizzle with olive oil, and bake for 15-20 minutes.
6: Meanwhile, cook the pasta of your choice, then drain.
7: After baking, the tomatoes are candied and the feta seems to have remained the same...
8: ...but that's where the magic happens: stir the entire contents of the dish with a spoon, and the cream forms.
9: Pour the still-warm pasta into the dish, toss, serve immediately and enjoy.
Remarks
You can use any kind of pasta you like: penne, spaghetti, fusilli, etc.
You'll notice that, strangely enough, the pasta takes on a surprising "pizza" taste (tomatoes-cheese-herbs-olive), which makes us call this recipe "pazzas" in the family.
---
December 8th 2023.