Potato Waffles with Smoked Salmon
A recipe from
cooking-ez.com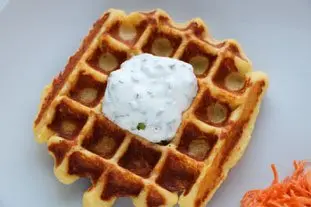 For 8 waffles, you will need:
Times:
| Preparation | Resting | Cooking | Start to finish |
| --- | --- | --- | --- |
| 24 min. | 10 min. | 5 min. | 39 min. |
Step by step recipe
1: Prepare 300 g Light herb sauce.
2: Put into a mixing bowl: 70 g instant mashed-potato powder, 1 sachet baking powder *, salt and pepper.
*Translator's note: French recipes often specify baking powder by the sachet: 1 sachet (10 g) = 2 level teaspoonsful, but because it is stronger, this is equivalent to 4 teaspoonsful of British baking powder!
4: Mix well then leave to rest for 10 minutes to allow the dried potato to absorb the milk.
You should have a mixture that looks rather like mashed potato. Add a little more milk if it seems too dry.
5: Cut 80 g smoked salmon into ribbons...
6: ...and mix into the waffle mixture.
7: Heat your waffle maker or iron and make your waffles one or two at a time (depending on the size of your waffle maker).
8: Serve the waffles piping hot, topped with a generous spoonful of really cold herb sauce.
Remarks
This basic waffle recipe can be varied easily. You can replace the salmon with all manner of other things: ribbons of ham, diced cheese, the herbs of your choice, etc.
---
September 21th 2021.