Sarladaise potatoes
A recipe from
cooking-ez.com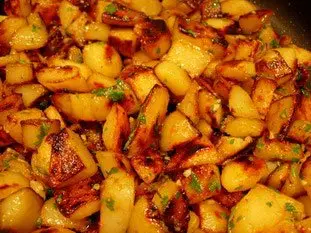 For 5 people, you will need:
Times:
| Preparation | Cooking | Start to finish |
| --- | --- | --- |
| 35 min. | 50 min. | 1 hour 25 min. |
Step by step recipe
1: Peel 1 kg potatoes, cut into medium-sized pieces, rinse and dry.
2: Melt 3 tablespoons goose fat in a non-stick pan over medium heat, then tip in the potatoes. Stir to coat with melted fat. Do not salt.
Cover, turn down heat and leave to cook 30 minutes.
3: After this time, salt and pepper, then shake or stir to bring potatoes that are already fried up to the top.
It's better to not use a spoon or spatula to avoid breaking the potatoes, but if you use one, do it gently.
Leave to cook another 5 minutes.
4: Repeat this operation until potatoes are fried and browned all over.
5: Chop finely 2 cloves garlic, 4 sprigs parsley and 1 shallot.
6: If you are greedy like me, scatter a few slices of foie gras in the pan (to your liking) and stir to melt.
7: Just before serving, add the mix of chopped herbs and stir well.
8: Serve on its own (it's quite filling), or to accompany a meat dish for example.
Remarks
For the perfect dish, use duck fat saved from cooking
home made terrine of foie gras
.
As usual with traditional regional recipes, I do not claim that this is "THE" recipe for Sarladaise potatoes, just that it's "ONE", my own version.
---
May 28th 2020.