Stuffed Mushrooms
A recipe from
cooking-ez.com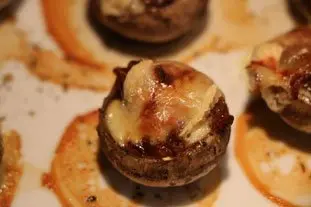 For 4 people, you will need:
Times:
| Preparation | Cooking | Start to finish |
| --- | --- | --- |
| 17 min. | 40 min. | 57 min. |
Step by step recipe
1: Preheat the oven to 360°F (180°C).
Peel 500 g mushrooms, cut off the stalks and lay the caps in an oven-proof dish or tray.
Salt the mushrooms and scatter the herbes de Provence over.
2: Turn the mushrooms stalk side downwards to let the liquid they naturally contain drain out during cooking.
Bake in the oven for 20 to 30 minutes.
3: At this point, take the mushrooms out of the oven and turn them the other way up.
Salt and pepper lightly.
4: Fill each mushroom with a small dollop of onion fondue and add a piece of Reblochon on top.
5: Put back in the oven for 15 minutes, until the cheese is nicely browned on top.
6: Serve piping hot.
Remarks
You can pop the mushrooms under the grill at the end to brown the cheese.
If you don't have Reblochon, use any other cheese you like, preferably fairly soft.
---
September 29th 2021.