Traditional nutty choc-chip cookies
A recipe from
cooking-ez.com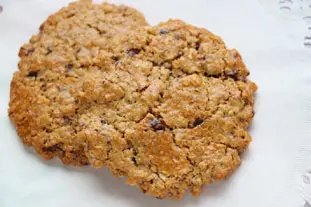 For 20 cookies, you will need:
Times:
| Preparation | Resting | Cooking | Start to finish |
| --- | --- | --- | --- |
| 39 min. | 35 min. | 35 min. | 1 hour 49 min. |
Step by step recipe
1: Preheat the oven to 300°F (150°C)
Spread 150 g rolled oats on a sheet of cooking parchment laid on a baking sheet.
2: Do the same with 40 g pecan nuts and 40 g flakeds almonds.
3: Toast in the oven for 15 minutes.
Leave to cool (this will be quicker if you slip the baking sheet out from underneath, but keep it handy as you'll need it for stage 12).
Turn the oven up to 370°F (190°C).
4: Roughly chop the cooled pecan nuts.
Set aside.
5: Whisk 75 g egg in a high-sided container.
6: Put 130 g brown sugar and 160 g butter in a mixer bowl.
7: Use the flat or "K" beater and knead for 1 or 2 minutes until evenly mixed.
8: Add all the other ingredients (oats, almonds, pecans, baking powder, chocolate chips, eggs and flour).
9: Knead for a few more minutes until evenly mixed.
10: Take the dough out of the bowl and divide into approx. 40 g (one and a half ounce) pieces.
11: Roll the pieces of dough betwen your hands into nice round balls.
Note: this is the part children enjoy best. If they are helping you make these, you may well hear something like, "This is cool, just like playdough!"
12: Reuse the paper and baking sheets from stage 3. Squash out the balls of dough on the cooking parchment with the palm of your hand into flat cookies, slightly thicker in the centre.
Bake for about 20 minutes.
13: Do watch towards the end of cooking. It is important not to overcook these cookies.
Ideally, they should be crisp and golden brown around the edge, but still soft in the centre.
14: Take off the paper and leave to cool on a wire rack.
Your cookies are ready. The only difficulty now is resisting the temptation to eat them all right away!
Remarks
Once the basic dough is made at
stage 9
, you can let your imagination guide you and (for example) use walnuts instead of almonds, muesli instead of oats,
raisins
or dried apricots instead of chocolate. Everything is possible (or nearly).
You can use bicarbonate of soda instead of the baking powder.
Before baking you can
glaze
the raw cookies at
stage 12
, but this is not essential.
---
August 14th 2022.