Bistro-style red endive salad
A recipe from
cooking-ez.com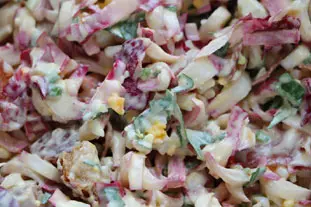 For 4 people, you will need:
Times:
| Preparation | Cooking | Start to finish |
| --- | --- | --- |
| 21 min. | 8 min. | 29 min. |
Step by step recipe
1: Prepare 750 g red Belgian endives...
2: ...slice finely and put in a salad bowl.
3: Add the chopped parsley and mix well.
Cover with a plate while preparing the rest.
4: Finely chop 2 hard-boiled eggs.
5: Cut 2 slices bread into small cubes.
6: Heat 1 tablespoon olive oil in a small frying pan on high heat. When really hot, add 2 slices smoked ham.
Fry rapidly on both sides.
7: Remove from the pan and cut into strips with scissors.
8: Use the same pan, without cleaning and still on high heat. Pour in 3 tablespoons olive oil and when good and hot, add the bread cubes.
9: Fry the croutons until golden brown all over, stirring frequently.
10: Tip the croutons, eggs and ham into the salad bowl. Add 4 tablespoons Rémoulade dressing and stir in well.
11: Your bistro-style red endive salad is ready.
Remarks
Of course, if you don't have red endives, the white sort will do fine.
You can use a vinaigrette (French dressing) instead of the rémoulade if you prefer.
---
June 29th 2022.