"Buttonhole" quail eggs
A recipe from
cooking-ez.com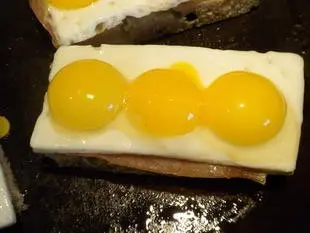 For 6 canapés, you will need:
Times:
| Preparation | Cooking | Start to finish |
| --- | --- | --- |
| 56 min. | 3 min. | 59 min. |
Step by step recipe
1: Cut 3 slices bread into rectangles about 5cm x 2.5cm (2 x 1 inches).
Cut 3 slices smoked ham to the same size.
2: Butter both sides of the bread.
3: Crack open the 18 quails egg and separate the yolks from the whites.
Note: The action needed to crack quail's eggs is not easy to describe; you might like to watch this short demonstration video.
4: Melt 30 g butter in a small pan over medium heat. When hot, add 1 teaspoon water, then pour in the egg whites.
5: When the whites are cooked, salt and tip onto a chopping board, and cut out rectangles the same size as the pieces of bread.
Cut 3 circles of 1 cm (0.5 inch) diameter out of each rectangle. For this it is best to use the nozzle of a forcing bag of the right size.
6: In the same pan, fry the ham for 1 minute on each side.
7: Then fry the slices of bread until golden brown on each side.
8: Turn down the heat under the pan. Arrange a slice of ham on each piece of bread, then a rectangle of egg white. Salt and pepper lightly.
9: Finish by placing an egg yolk in each hollow.
This is the tricky moment in the recipe. You need to do this gently so as not to break the egg yolks.
Leave like this on low heat for about 5 minutes to warm the yolks through, but they should not cook.
Remarks
Everything can be prepared in advance, only the yolks need to be added at the last minute.
You can add a little surprise flavour in the hollow of the whites under the yolks, something strong like a drop of wasabi, a few drops of vinegar, or whatever you can think of.
---
December 7th 2021.