Cocotte eggs with Comté
A recipe from
cooking-ez.com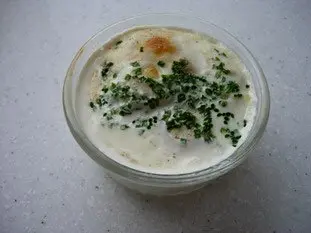 For 6 people, you will need:
Times:
| Preparation | Cooking | Start to finish |
| --- | --- | --- |
| 35 min. | 25 min. | 1 hour |
Step by step recipe
1: Preheat the oven to 180°C or 356°F, and put in the dripping tray. When it's hot, pour into the dripping tray enough hot water to give about 1 cm or ½ inch depth.
Fry 125 g small pieces of bacon in a pan with 1 tablespoon oil. When they are well cooked, remove the excess fat and add 2 tablespoons vinegar to the frying pan. The vinegar is to bring a small note of acidity, and compensate to some extent for the fat of the bacon.
2: Melt 1 knob butter in a ramekin (in microwave oven for example), and brush the bottom of the other 5 ramekins with it.
3: Put a good tablespoon of thinly sliced bacon in each ramekin.
4: Grate some Comté onto it.
5: Break an egg over.
6: Add 2 teaspoons of liquid cream.
7: Salt and pepper.
8: Chop some chives finely on top.
9: If you wish to improve the appearence, you can push the egg yolk to the centre of the ramekin and distribute the herbs around it.
10: Put the ramekins into the dripping tray of hot water in the oven. Cook until the egg white is completely cooked (opaque), about 15 minutes.
Eat as soon as possible, because eggs continue to cook even out of the oven.
Remarks
A good cocotte egg should have the white completely cooked (opaque) and the yolk still liquid, and that's not very easy. A common mistake is to produce a raw egg (white not cooked) or hard (egg yolk cooked). Here are some tips for success:
Eggs must be at room temperature; too cold and they won't cook properly
Watch the cooking carefully through a transparent ramekin
If you have an electronic thermometer, stop cooking when inside the egg white reaches 75°C or 167°F
Here are some variations on the recipe :
Parmesan cheese and walnuts
Diced chicken and mushrooms
Leeks
Roquefort
Etc...
---
July 12th 2020.