Cretan salad
A recipe from
cooking-ez.com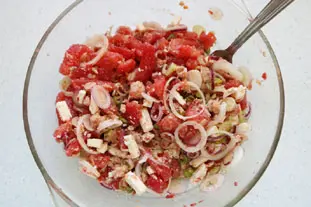 For 4 people, you will need:
Times:
Step by step recipe
1: Prepare 4 tomatoes, cut into small pieces, sprinkle with fine salt and leave for 30 minutes in a sieve to drain off the juices.
2: Peel 150 g spring onion (scallion)...
3: ...then slice thinly into a salad bowl.
4: Add 150 g feta cut into small pieces and 50 g tuna in oil.
5: Finish by adding the well-drained tomatoes.
6: Prepare a simple dressing by mixing rapidly 5 tablespoons olive oil, 2 tablespoons lemon juice, salt and pepper.
7: Pour the dressing into the salad bowl and mix well. Your salad is ready.
Remarks
If you don't have spring onions (scallions), you can use shallots instead or ordinary onions instead.
To keep to the spirit of the recipe, you really should try to use olive oil that comes from Crete; it's so good... If you can be tempted, allow me to recommend
the one Arnaud sells
, a real "must have".
---
December 8th 2023.