Greek salad
A recipe from
cooking-ez.com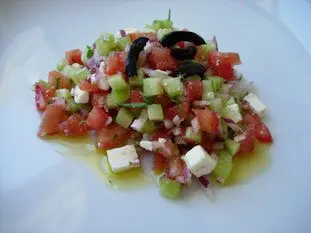 For 4 people, you will need:
Times:
Step by step recipe
1: Wash 1 cucumber, peel and slice (a mandolin is the ideal tool for this), then cut into sticks, and finally into small dice.
Put to wait in a seive.
If you prefer your cucumber softer rather than crunchy, salt lightly to tenderise and draw out some of the juice.
4: Dice 100 g feta.
5: Remove the stones from 30 g black olives and chop roughly.
6: Prepare a "citronette" (lemon) dressing, by mixing 4 tablespoons olive oil, 2 tablespoons lemon juice, salt and pepper.
7: Mix all the ingredients in a bowl, then add the fresh herbs and mix again.
8: Add the dressing and mix once more.
It's ready.
Remarks
Take care to use the recommended quantity of olive oil; it's important for the end result, and ideally use Greek oil if you can.
Use a red onion if possible; they are available in the summer and are so good raw.
---
December 2nd 2021.