Ham spirals
A recipe from
cooking-ez.com
97K
4.0
September 7
th
2018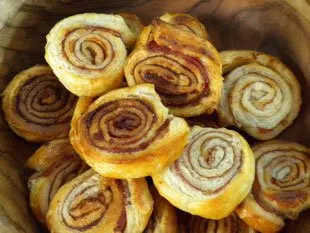 For 20 spirals, you will need:
Times:
| Preparation | Resting | Cooking | Start to finish |
| --- | --- | --- | --- |
| 18 min. | 30 min. | 10 min. | 58 min. |
Step by step recipe
1: Roll out 200 g Puff or flaky pastry (pâte feuilletée) into a rectangle.
If you are using a bought, ready-rolled circle, trim a little off the edges.
glaze all the top.
2: Cover the pastry with slices of ham but avoid overlapping them as far as possible.
Pepper.
3: Roll up the pastry...
4: ...gently into a...
5: ...cylinder.
Stick down the end of the pastry (the last inch or 2 centimeters) using a little beaten egg as "glue".
Chill in the freezer for 15 minutes (or 30 minutes in the fridge) to firm up the pastry and make the roll easier to cut.
6: After this time, preheat the oven to 220°C (430°F).
Glaze the roll.
7: Then cut into slices about 5 mm (1/4 inch) thick...
8: ...and arrange these on a baking sheet.
Don't worry if the slices aren't perfectly round at this stage, they will swell as they cook and regain their shape.
9: Bake until nicely browned (about 10 minutes). Best served hot or warm.
Remarks
The spirals can be cooked beforehand and reheated quickly in the oven.
You can vary the type of ham, or even use smoked salmon instead.
---
December 7th 2021.