Roscoff salad
A recipe from
cooking-ez.com
20K
2
5
December 30
th
2019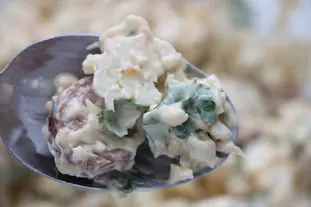 For 4 people, you will need:
Times:
| Preparation | Cooking | Start to finish |
| --- | --- | --- |
| 19 min. | 13 min. | 32 min. |
Step by step recipe
1: Fry 200 g sausages (preferably smoked) in a small frying pan.
2: Slice the sausages and set aside.
4: Use the same frying pan on medium heat, without cleaning it (to make use of the fat from the sausages), and add 2 tablespoons Clarified butter.
Add the onions and cook for 3 to 4 minutes, then salt and pepper.
5: Return the sausage slices to the pan, mix well and turn off the heat. Cover and leave to wait.
6: Prepare 400 g cauliflower and slice the florets thinly (a mandolin is ideal for this). Put the cauliflower into a salad bowl.
7: Add the chopped parsley.
8: Then add the sausage and onion mixture.
9: Finish by adding 100 g Mayonnaise and mix well.
10: Your Roscoff salad is ready.
Remarks
To keep to the true Roscoff spirit, you should use Molène sausages, but if you can't get these, another type (preferably smoked) will do the job.
No clarified butter for
stage 4
? Use a little salted butter or a neutral-flavoured oil (groundnut, sunflower...) instead.
---
September 27th 2021.