Salad greens and small omelette
A recipe from
cooking-ez.com
3,652
4.5
September 10
th
2023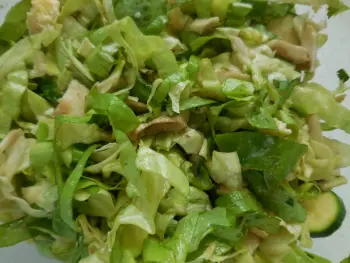 For 4 people, you will need:
Times:
| Preparation | Cooking | Start to finish |
| --- | --- | --- |
| 42 min. | 5 min. | 47 min. |
Step by step recipe
1: Prepare 1 lettuce, and cut into chiffonade.
Place in a salad bowl.
3: Prepare 3 purples globe artichokes, but don't cook them, cut them into strips and set aside in lemon water, or better still with a little vitamin c to prevent blackening.
4: Break 2 eggs into a bowl, season with salt and pepper and beat quickly with a fork.
5: Place a small frying pan over medium heat and, when hot, melt 1 knob butter in it.
As soon as it starts to foam, pour in the beaten eggs.
6: And quickly cook the eggs, scraping the bottom of the pan with a cheesecloth.
Remove from the heat as soon as they are barely cooked.
7: Add the chopped parsley, drained and dried artichokes, 5 tablespoons French dressing (vinaigrette) and mix well.
8: At the last moment, add the eggs, stir gently one last time and serve.
Remarks
If you have medium or large zucchinis instead of small ones, dice them instead of slicing them in
step 2
.
---
December 8th 2023.