Turnip top soup
A recipe from
cooking-ez.com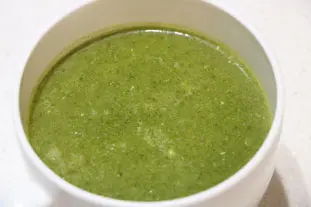 For 1 litre 500 ml, you will need:
Times:
| Preparation | Cooking | Start to finish |
| --- | --- | --- |
| 17 min. | 25 min. | 42 min. |
Step by step recipe
1: Rescue 200 g turnip (or other vegetable) tops.
These might be from turnips and radishes bought for another recipe, or if you go to the market, for example, stall holders will probably give them to you for nothing, as customers generally ask for them to be taken off.
3: Peel 2 potatoes and slice.
set aside.
5: Melt 50 g butter in a large saucepan on medium heat. When it begins to froth, add the chopped shallot, salt and pepper.
Cook for 1 minute without colouring.
6: Add the vegetable tops to the pan and stir round until...
7: ...they wilt and shrink down into the butter and shallots.
Note: depending on the quantity of leaves, you can do this in batches.
8: Pour in 1 litre 500 ml water and add the potato slices. Salt and pepper again.
9: Simmer on low heat for about 20 minutes until the potatoes are tender.
10: Take off the heat and blend, then check the seasoning.
11: Your turnip top soup is ready.
Remarks
The quantity of leaves in this recipe is for guidance only, so use whatever you have to hand.
As soon as they are separated from their roots, these vegetable tops wilt very rapidly, so they should be freshly picked and used quickly. If you need to defer making your soup, cut the tops off the fresh vegetables and seal in a plastic bag with a piece of dampened
absorbant paper
, then these will keep in the fridge for a day or two.
For more flavour, use
vegetable stock
instead of water.
---
July 11th 2020.