Warm lentil salad
A recipe from
cooking-ez.com
153K
4.6
September 5
th
2010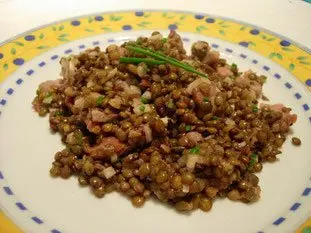 For 4 people, you will need:
Times:
| Preparation | Cooking | Start to finish |
| --- | --- | --- |
| 33 min. | 20 min. | 53 min. |
Step by step recipe
1: Cut 200 g smoked pork belly (or thick cut streaky bacon) into small pieces, not too thick.
3: Bring a large pan of salted water to the boil, then add 250 g green lentils.
Cook until the lentils are just tender, but no more, otherwise you will end up with lentil soup.
4: Meanwhile, pour smoked pork belly into a large pan, add the pieces of 200 g smoked pork belly (or thick cut streaky bacon) and fry.
As soon as they are nicely browned, add 2 tablespoons vinegar and scrape the bottom of the pan with a wooden spatula to deglaze, then take off the heat and set aside.
5: When the lentils are cooked, drain them in a seive and run them briefly under the cold tap.
This is done to stop the cooking quickly and stop them turning into lentil purée.
6: Once the lentils are thoroughly drained, tip them into the pan with the bacon and mix well.
7: Chop the chives finely.
8: Add the onions and chives to the lentils, pour in 4 tablespoons French dressing (vinaigrette) and mix well.
Serve warm if possible.
Remarks
Try to use the delicious green Le Puy lentils. This is not essential, but they are so very good.
If you don't have any smoked bacon, plain bacon, diced ham or sausage (preferably smoked) will do fine.
---
August 6th 2021.