Jura bread
A recipe from
cooking-ez.com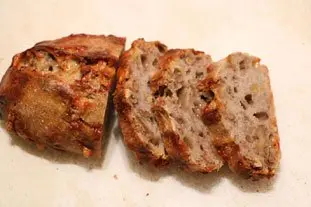 For 2 loaves, you will need:
Times:
| Preparation | Resting | Cooking | Start to finish |
| --- | --- | --- | --- |
| 34 min. | 4 hours 50 min. | 45 min. | 6 hours 9 min. |
Step by step recipe
1: Put 450 g plain white flour (French Type 65) and 50 g rye flour into a food-processor bowl.
In this recipe, wine is used instead of the usual water, which will give the bread a very special flavour.
Weigh 300 ml dry white wine. Do try to use a Jura white wine made with Savignin grapes if possible.
2: In bread-making, the water temperature is always important. It's not a fixed value, but related to 3 other temperatures: 1) the temperature of your flour, 2) the room temperature in your kitchen, and 3) the basic temperature of this recipe, which is 56-60°C.
You can calculate the temperature of the water for this recipe in one click, using this small calculator.
3: Once the wine is at the right temperature, pour it onto the flour and mix for 5 minutes, just enough to mix the wine into the flour.
Cover the dough with a plastic sheet and leave to rest for 1 hour.
Note: For the best way to knead, see: A few tips for effective kneading at home.
4: Meanwhile, toast 175 g walnuts by putting them on a baking sheet in the oven at 360°F (180°C) for 10 minutes. Set aside.
5: Dice 175 g Comté cheese.
Set aside.
6: After resting for 1 hour, remove the plastic sheet from the bowl of dough and add 250 g leaven, 5 g yeast and 9 g salt.
7: Knead for 10 minutes.
8: After 10 minutes of kneading, add the walnuts and Comté. Continue kneading just until these are well mixed in.
9: Gather the dough into a ball and transfer to a clean bowl. Cover with a plastic sheet.
Leave to rest for 1 hour 30 minutes.
10: After resting, cut the dough into pieces of the required size and roll into balls.
Cover the balls with a plastic sheet and leave to rest for 20 minutes.
11: After this resting, shape the balls into loaves and lay in proving baskets (bannetons) or tins (or your choice of mould) lined with a cloth.
Leave for 2 hours.
12: Preheat the oven to 460°F (240°C).
Turn the loaves out and slash the tops.
13: Bake for about 35 minutes, not forgetting the steam.
14: Take out of the oven when nicely browned and leave to cool on a wire rack.
Remarks
To be sure the wine is at the right temperature, it is best to microwave it in its container by 10 second bursts, checking with an
electronic thermometer
each time. If you do not have a microwave, heat the wine in a small pan on low heat until it reaches the right temperature.
If you are baking your bread in a proper
bread oven
, sit each loaf on a sheet of
cooking parchment
, otherwise the cheese will stick them to the
oven floor
. Of course, if you do not have the authentic ingredients from the Jura (such a pity!), you can use any dry white wine and an easily available cheese like Emmental. These will work just fine.
---
May 16th 2022.