Mixed seed grissini
A recipe from
cooking-ez.com
249K
4.1
February 21
th
2011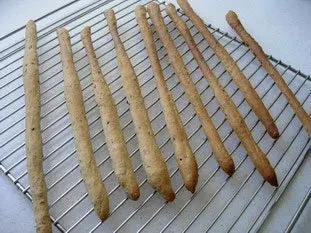 For 20 grissinis, you will need:
2

140 ml water

3

5 g salt

4

40 ml olive oil

5

10 g yeast

6

20 g sesame seeds

7

20 g linseed

8

20 g poppy seeds
Total weight: 505 grams
Times:
| Preparation | Resting | Cooking | Start to finish |
| --- | --- | --- | --- |
| 40 min. | 1 hour 30 min. | 20 min. | 2 hours 30 min. |
Step by step recipe
1: Mix 20 g sesame seeds, 20 g linseed and 20 g poppy seeds.
Set aside.
2: In the bowl of the food processor, pour 140 ml water, 5 g salt and 40 ml olive oil.
Tip in the mix of seeds.
3: Add 250 g plain white flour (French Type 65) and 10 g yeast.
4: Knead on low speed for 5 minutes.
Note: For the best way to knead, see: A few tips for effective kneading at home.
5: Gather the dough into a ball, then cover with a damp tea-towel and leave to rise for an hour, or hour and a half.
6: At the end of this time, preheat your oven to 428°F (220°C).
Tip the dough onto your work surface.
7: Take a small piece of dough (20 g approximately), then roll under your hands until obtaining a long even "sausage" of about 20 cm (8 inches).
8: Place this roll on a baking sheet.
9: And continue like this with the rest of the dough. The rolls should not touch each other.
10: With a brush, glaze each roll with a little oil, and sprinkle salt on top.
11: Put in the oven, and bake until the gressini are nicely browned, about 20 minutes.
12: Leave on a rack to cool a littl before serving still warm.
Remarks
You should cook the gressinis as you like them: if you want them really crusty do not hesitate to bake them until brown. Conversely if you prefer them a still a bit soft, cook until just light brown.
---
June 9th 2023.