Crab Cakes
A recipe from
cooking-ez.com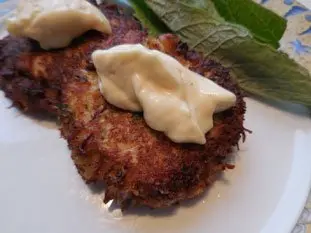 For 6 cakes, you will need:
Times:
| Preparation | Resting | Cooking | Start to finish |
| --- | --- | --- | --- |
| 22 min. | 30 min. | 11 min. | 1 hour 3 min. |
Step by step recipe
1: Put 250 g crab meat into a bowl and pour 2 tablespoons lemon juice over.
3: Add the chopped parsley, 2 tablespoons breadcrumbs, 1 tablespoon Mayonnaise and 1 egg. Salt sparingly and pepper generously.
4: Mix all this together.
If the mixture is too wet or soft, add more breadcrumbs.
5: Shape into thick cakes with your hands or, for a more regular shape, use a cutter and a tablespoon.
6: Use up all the mixture, then refrigerate the prepared crab cakes for at least 30 minutes. This will firm them up so that they do not fall apart during cooking.
7: Pour 6 tablespoons oil into a frying pan on medium heat. When hot, gently lower in 2 crab cakes.
8: Fry the crab cakes on both sides until nicely browned.
Cook all the cakes like this, putting them on absorbant paper to drain off excess oil as you take them out of the pan.
9: Serve with a green salad or coleslaw and a dollop of mayonnaise on top.
Remarks
For a more robust flavour, you can replace the mayonnaise with a spoonful of mustard.
---
December 8th 2023.