Erika's ceviche
A recipe from
cooking-ez.com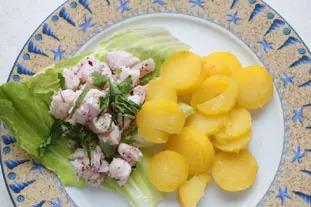 For 4 people, you will need:
0

400 g fish fillet

1

1 red onion

2

10 g ginger

3

1 garlic clove

4

5 limes

5

800 g cooked potato

7

salt

8

pepper

9

¼ green chilli (optional)
Total weight: 1,903 grams
Times:
| Preparation | Resting | Start to finish |
| --- | --- | --- |
| 39 min. | 30 min. | 1 hour 9 min. |
Step by step recipe
1: Clean and trim 400 g fish fillet (choose a white fish such as whiting, sole, cod, pollack, etc). Dice fairly small and put into a bowl.
2: Prepare 1 red onion (use a small one), chop finely and add to the diced fish. Salt and pepper then mix well.
3: Grate 10 g ginger and 1 garlic clove into the bowl, then mix again.
4: Squeeze 5 limes.
5: Pour the squeezed lime juice over the fish, mix well, cover with a lid or plastic film and leave to "cook" at room temperature for 30 minutes.
6: After this time, drain the fish thoroughly, You will notice that the fish will have turned from slightly translucent to opaque after curing (effectively cooked).
7: Slice 800 g cooked potatoes and reheat if necessary.
8: Serve the ceviche on a bed of lettuce with a little choppped coriander scattered over and with sliced potatoes on the side.
Remarks
For a real Peruvian touch, add a finely chopped fresh red chilli at
stage 3
, and use sweet potatoes instead of normal ones.
For even more flavour,
zest
one of the limes and add this to the juice for curing.
You can drizzle a little
herb olive oil
onto the ceviche just before serving.
Do feel free to adjust the amount of ginger (more or less) and garlic to suit your own tastes.
---
May 31th 2020.