Fish in a sesame crust
A recipe from
cooking-ez.com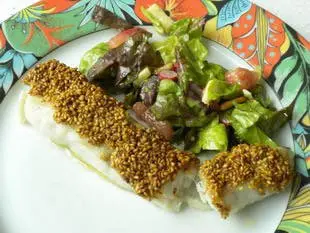 For 4 people, you will need:
Times:
| Preparation | Cooking | Start to finish |
| --- | --- | --- |
| 21 min. | 21 min. | 42 min. |
Step by step recipe
1: Cut the fish into thick pieces, one per person. Carefully remove all bones and skin.
2: Dry roast 100 g sesame seeds in a small pan on high heat for 5 minutes at most.
You will see that the sesame seeds "jump" like popcorn when they are done.
4: Salt, pepper and flour the fish pieces on both sides.
Preheat the oven to 180°C (360°F).
5: Heat 2 teaspoons olive oil in a pan and fry the fish pieces for 1 minute maximum on each side to brown them lightly.
6: Arrange the fish pieces in an oven-proof dish and coat with a thin layer of sesame paste.
7: Bake in the oven for 10 minutes.
If you have an electronic thermometer, stick it into the middle of one of the fish pieces. It will be cooked just right when the temperature reaches 60°C (140°F).
8: Serve straight away with the accompaniment of your choice.
Remarks
You can put the fish under the grill to finish browning, if necessary, so that the crust is nice and crisp.
---
December 2nd 2020.