Normandy seafood stew
A recipe from
cooking-ez.com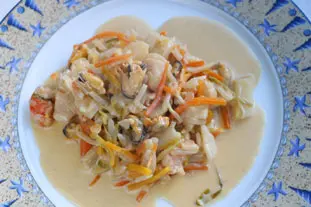 For 8 people, you will need:
Times:
| Preparation | Cooking | Start to finish |
| --- | --- | --- |
| 1 hour 24 min. | 49 min. | 2 hours 13 min. |
Step by step recipe
1:

Prepare the shellfish

Slice 250 g scallops in half horizontally.
Shell 250 g cooked prawns and cut each one into 2 or 3 chunks.
Set aside.
2: Prepare 500 g mussels, ideally as mussels marinière, then shell and keep a wine glassful of the cooking liquid.
Set aside.
3:

Prepare the vegetables

Peel, rinse and cut 200 g turnip into julienne sticks.
Note: A mandolin is the ideal tool for this.
Set aside.
4: Do the same with 200 g carrot.
5: And the same with 200 g celeriac.
6: Then the same with 100 g Jerusalem artichoke and 200 g leek.
7: Do the same with 200 g potatoes.

Finely chop 1 shallot.
8:

The cooking

Pour 5 tablespoons olive oil into a large stewpan on high heat. When good and hot, add the scallops and prawns.
Brown briefly, just a few minutes, stirring from time to time. Then transfer to a dish, leaving the oil behind in the pan.
9: Put the pan back on the heat and add the shallot.
Salt, pepper and cook for 1 minute without colouring.
10: Add all the vegetables, mix together, then salt and pepper.
11: Pour in 100 ml cider and mix again, deglazing the bottom of the pan with a wooden spatula.
12: Add all the shellfish, the cooking liquid from the mussels (if possible), and 1 litre liquid cream.
Salt and pepper, then mix again and turn the heat down to its lowest.
13: Leave uncovered to cook gently and reduce for about 40 minutes, until the cream has thickened to your liking.
Remarks
This is a very approximate recipe, so do feel free to vary it according to your taste and the vegetables and shellfish in season.
You will notice that the quantities are large, intended to feed 8 people. As the preparation is quite long, it makes sense to to cook a decent quantity and freeze some.
You may have noticed that in
stage 7
the potatoes are not raw. This is also a flexible recipe. I had some leftover potatoes, so used them up in this recipe, rather than raw ones.
---
September 25th 2020.