Tahitian style fish
A recipe from
cooking-ez.com
241K
4.6
February 21
th
2011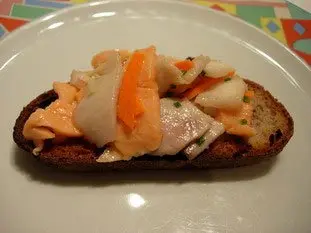 For 4 people, you will need:
Times:
Preparation
12 hours 57 min.
Step by step recipe
1: The day before, cut 600 g fish fillet into small pieces. Ideally use 3 different kinds of fish: salmon, cod, whiting, tuna, etc.
2: You should make the pieces quite small about 1 or 2 cm) and fairly thin.
3: Squeeze the 5 limes, and put the juice in a bowl through a very fine strainer to remove all the pulp.
Add salt.
4: Put all the fish in the salted lime juice, mix well.
Cover with plastic film and refrigerate overnight.
5: The next day, you will see that the fish has been cured by the lime juice, as it will have become opaque (effectively "cooked").
6: Drain the fish in a strainer. You can discard the lime juice now.
7: Wash, peel and cut 1 carrot in small pieces.
8: Cut 1 bunch chives very fine.
9: Cut 1 shallot into very small pieces.
10: Add carrot, chives and shallot to the fish, mix well.
11: Finally add a little olive oil, perhaps chive flavoured.
Add pepper, then check seasoning.
12: Serve like this, as a salad, or on toast. If you're having a barbecue, serve as a starter, and make toast directly on the barbecue with slices of lightly buttered bread. Yummmm...
Remarks
If you don't have limes, you can use lemons, but it will not be as good.
---
September 29th 2021.